Mailing Industry Articles
Advance Systems provides Monthly Mailing Industry Articles. These articles pertain to the mailing industry's machinery and software. For past articles, go to
Article Archives
.
See
Article Guidelines
for more information.
You are welcome to present an article on our subject matter to us for publication.
Send your articles to
ken@advansysco.com
. Articles are processed before publishing.
Article 2 Wednesday, March 21, 2012
Things To Think about When Purchasing Mail Inserting Equipment
By Ken Swepston
The purchase of a mailing inserter, whether it is the first or an addition to your current inserting equipment, can be a considerable capital investment. Most people are looking to get a system that will be very versatile in meeting their requirements for both now and in the future. They are also looking for this investment to pay for itself many times with dependable service.
Due to budget constraints and the duration of job contracts, many companies look to used mailing inserters to meet their needs. Buying used mailing inserters can save 40% or more and so provide opportunities for contracting more jobs and expanding business over the long term.
As we all know, the profit margins in mail processing are not that great and so no one can afford to make a bad investment in equipment that you are depending on to get your mailing jobs done out the door on time. That is why it is so important to not only know the capabilities of the used equipment you are looking to purchase but the condition and reliability of it as well. This is where things can go wrong.

Typically, like buying a used car, we look at things like age, appearance, mileage and a good story about the history of the inserter to make us feel good about our decision. However, much more important is how the inserter has been maintained. Unlike cars, mailing inserters can provide years and years of dependable service if they are properly maintained. If the manufactures' maintenance schedule is followed, a mailing inserter will be totally rebuilt many times before it is retired.

Knowing the actual condition of a used inserter and how well it has been maintained is something that requires direct inspection and testing by a knowledgeable technician. So make sure that before you buy, you or the company you are buying from, can do a thorough inspection and let you know, not only it's current condition, but what might be required in the short, as well as long term to keep the system running and meet the volume demands that you need it to perform in your shop on a daily bases.
Many times you will find mailing inserters that have not been properly serviced and are in need of work when they come on the used equipment market. If you don't have the in-house ability to do such work, you will need to find someone who is trained and has a good reputation for the work they turn out.
This would apply, as well, for used inserters being sold that are advertised as having been remanufactured, rebuilt, refurbished or reconditioned. These are all terms used in restoring used equipment back to a production ready condition. However, they don't necessarily follow universal requirements that the term would seems to indicate.
In general, you should expect a reconditioned mailing inserter, to be completely functional, run smoothly, and be able to be put into full production and run eight or more hours a day. It should come with a condition report that will indicate parts that may have more than half life ware on them. Depending on the volume of work you are doing, these parts may need to be replaced within the next year or two.
If the mailing inserter has been refurbished, it should have had all parts that have half life or less replaced.
It should also be mechanically tight and cosmetically appealing.
You should expect a refurbished inserter to be full production ready and provide dependable service in meeting your jobs and volume demands.
SUMMARY
For rebuilt inserters, you should expect that the inserter has been completely taken apart and rebuilt from the ground up. All wore parts are replaced, and all chains, bushing and other high ware parts replaced with new. The inserter should be repainted and should be mechanically and cosmetically very close to when it was new. The system should run and have the same speed capability of a new mail inserting machine.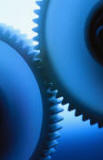 Advanced Systems Rebuilt or Refurbished Mailing Equipment!
Offering rebuilt base mail inserters and intelligent mail inseters
Advanced Systems is a provider of new and used mailing machines. All mail machines go through our special refurbish or rebuild process and are delivered to you ready for your mailshop production floor. We offer refurbished of rebuilt base mail inserters and intelligent mail inserters as well as other new and used mailing equipment.
Our
"Glossary of Terms"
page will explain reconditioning terms as well as their meanings.
Visit the
"Inserter Rebuild"
page to learn more about the process.